...for tagging me! As has previously been noted, I do love talking about myself, but I don't have dfive people to pass this on to. Oh well. Maybe I'll just tag you back - five times



Total Number Of Books I Own:

This many: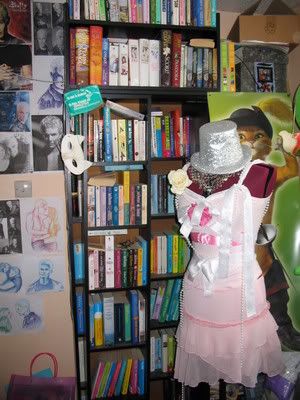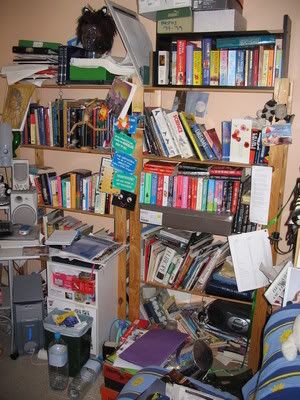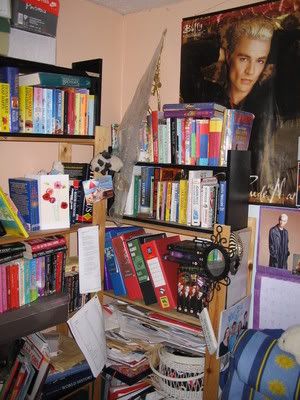 Plus two bookshelves downstairs full of worthy Dickens-esque stuff I've never read and have no intention to; cookbooks (ditto); several hundred boxes of kid books (I can never throw away books, never) and the leaning tower of bookdom by my bed. Oh, and a bootbox (that's thye kind that's two feet long) under my bed that contains many romance novels. Ran out of shelf space.

Also a folder of eBooks on my hard drive. I have a problem, okay - there should be a Boookaholics Anonymous club. Even when I can't afford them I give myself a hernia lugging home loads from the library.


Last Book I Bought:

Oh crap, I have no idea. The latest I can actually remember were May's HM&B Temptations. They go in with the groceries. Thank you, Tesco!

Last Book I Read:

Sherrilyn Kenyon. I can't remember the title but it had something to do with Nights or Dark something... sorry. It's not that I didn't love the book - I did! - but the titles are all the same and I can't remember! It's the one with the Were-Hunter Vane, who was adorable. I sometimes get tired of the Alpha who knows everything and can do everything. Vane was strong and sexy and powerful, but he didn't have a clue about so many things, and he admitted it, which was just the cutest thing.

Five Books That Mean A Lot To Me:

Gark! I.... uh... um. That's a hard one, Butch.



The Evolution of Fashion

by Margot Hamilton Hill and Peter A Bucknell. That's done, you, 'Enry 'Iggins! It's not fiction. It's not even prose. It's a book where most of the pages are filled with drawings and patterns of clothes from 1066-1930. I LOVE clothes, historical fashion, and costume. If I hadn't gone into writing I'd have gone into costume. This is just one of my beloved (and woefully small - it's not a subject that's well-tackled in popular print) collection of books on the subject. Pure clothes-porn.



The Tudor Housewife

by Alison Sim. History written about in a friendly, easy-to-understand, words-of-few-syllables sort of way. Like costume history, social history is not a subject widely represented and they don't bother to teach you about it at school. But utterly valuable for anyone interested in, and especially writing about, the period. Unexpectedly useful for fantasy, too. Very special to me because it's the first history book I read voluntarily, it wasn't filled with boring, meaningless dates and names, and there was hardly any mention of politics. Just every day people and the way they lived. Fantastic!



A Knight in Shining Armour

by Jude Deveraux. Comfort reading (usually to be found in the bottom of my suitcase in case I run out of new books). My first time-travel romance, and the first single-title romance I ever read. When I was about twleve, I think. This was the book that introduced me to the concept that not all romance is category M&B stuff, and not all historicals are full of dull details. Seeing the Elizabethan world through Dougless's eyes is so much more different, so much more vibrant, than trying to see it through the eyes of someone to whom it was normal. Reminds me of a week in my favourite place, where I was also introduced to my favourite band and my favourite song. Also, it's full of great clothes-porn.



Seven Up

by Janet Evanovich. Love chick-lit voice; love guns and blood; love hot men. What else do I have to say? Except that yes, I read them out of sequence, and this was the first one (in a twofer at Borders, if you really want to know).



Wyrd Sisters

by Terry Pratchett (just a title at random, I think it's the first one I read. I know it was one of the witches books). Having read Terry's kid stuff when I was a kid, I wasn't impressed - too confusing and made me feel like I just wasn't getting it. However a week in rainy Cornwall is a terrible thing without anything to read, even if the reading's bad, so I nabbed this from the library. And fell in love. One cranky old woman, one leering old biddy, and one watery teenager, lots of really off-beat humour and fantastically twisted fantasy. The sort of thing you'd never be able to pitch to a publisher (trust me on this). Also his City Watch books - I worship Angua especially. For a male writer and a genre traditionally concerned more with wizards and trolls, Terry really does write wonderful women.

Five People I'm Gonna Tag. Like I said. Amy, five times. I'm lazy, plus you picked all the bloggers whose addresses I can actually remember.