Well, here's the big day! My very first published work is released today, and isn't it exciting! To celebrate I'm having a blog party, so come on in, make yourself comfortable, and ask me whatever you like. I'll be around all day (no, I have no life) to answer such things as 'What's the book about?' 'Do you get to research the sex scenes yourself?' 'Where are my socks?'
I'm aware my news updates have been woeful lately, especially with the amount of news I have to give, so here's a brief update.
On Sunday, after about 26hrs of travelling, I came home from America and slept for 18 hours. Tired much? Well, I'd had a really busy couple of weeks!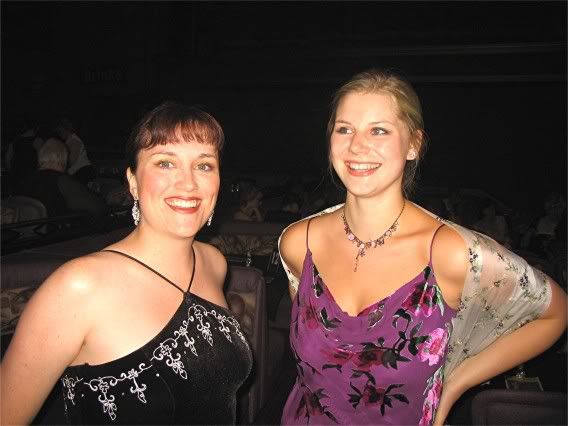 First I went to Austin to visit with my good friend Amy - a good friend, this is, who I'd never actually met before. Turns out we get along even better in real life than we do in cyberspace, which was fantastic.
We shared a room in Reno for the RWA National conference, along with Amy's friend Nic and Nic's friend Frieda, who were both lovely and to whom I wish every writing success. I also met some of the bats (above), who were wonderful and I can't wait to meet them again next year!
Here's me with Sherrilyn Kenyon (look at her fabulous dress!) who was sweetness personified. She signed Sins of the Night for me, gave me a load of tattoos and badges, and complimented my accent. LOL! You wouldn't believe how many people over there thought my accent was 'pretty'. And here's me thinking I'm dead common! I tried to posh it up a bit when I wore the Lady Penelope suit (sadly, no pictures, but if you've seen Thunderbirds you'll know what I mean) for my editor/agent appointments with Ellen Edwards and Marta Justak, who both requested partials of Sophie (note to self, send out those partials).
Here's me at the awards ceremony, practising my 'Who, me? I won everything?' look. Think it's working?
Then on to Vegas. Mad, mad place! I mean truly insane, and this is from a girl who thinks it's normal to have pink hair and dress like a belly dancer for a book signing. Everything is just bigger and siller than you could imagine. Alysia has a photo that includes the Eiffel Tower and a pyramid in the same shot. Mine isn't so surreal, but have a look anyway.
Went to see the Chippendales. Well, you have to, don't you? Lovely, lovely shiny naked men. Ooh baby. The bartender refused to serve me tequila because he said I should have something British, so I ended up with a Rusty Nail (Scotch and Drambuie). He was so pretty and he smelled so nice, I couldn't complain. (picture following, I need to scan it in)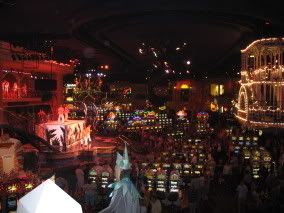 Inside (yes, inside) of the Rio hotel. Incidentally, it's very strange getting ID'd everywhere. Here, I've been allowed to drink for five years. I've
never
been ID'd in England - I guess by the time I was 18 I looked older. Maybe it's flattering that I can pass for 21 now!
Ended up going clubbing on the 51st floor of the Rio hotel, outside, where it was warm. Outside and warm - especially when put together with dark and high - are not mixy things in my vocabulary. Several strange people chatted me up, including a woman who was trying to get me together with her ex. Nice of her.
Then for a dose of sanity we went to the Grand Canyon. Did I say sanity? I'm sorry. This thing would stretch from London to Newcastle. It's freaking
huge.
Way beyond my understanding.
Also stopped in at the Hoover Dam. Didn't get to throw in a coin on the state line, but what're you gonna do? Probably they don't want copper in their water anyway.
Oh yeah! Madame Tussauds, where I made a friend...