Sophie
has already blogged about this, but there were too many pictures to put on one post (else it would have been a million miles long).
So. New venue, Excel in London, much easier to get to. Park-and-ride seemed like a bit of an afterthought, bad sign for a motorshow, I thought, down a rutted track and ferried on Routemaster buses that saw service in WWII. It was about 32C in London yesterday, and neither buses nor convention centre were air conditioned (if Excel was, it needed turning up). However, it's a much better space, and being this time of year they could of course take several things outside. So there were car assault courses you could drive on, and a food court where your ice creams could melt. The BMW 'plaza' was outside too--BMs and Rolls under cover, Minis out in the open sunshine.
Inside, I was impressed with: the new Aston Martine Rapide (4-door); the Honda Civic (yes, I know, but it is damn good-looking); the Saab concept thingy; the Alfa Romeo Brera; the Alfa girls' outfits; and the Carte d'Or ice cream I had. Less than impressive were the Vauxhall stand (trying too hard with their 'trendy' 'street' promo outfits, and where the hell was the VX220? Don't tell me they've stopped making it?); the air conditioning, as mentioned; the herocally ugly Peugeot 207 (why, when the 206 was so pretty?); the lack of Fiats or VWs (come on, I wanted to see the Veyron); and the blisters on the soles of my feet when I was pruposefully wearing comfortable sandals to get air to my feet.
Anyway, here are some photos. No, not of my feet. Ew.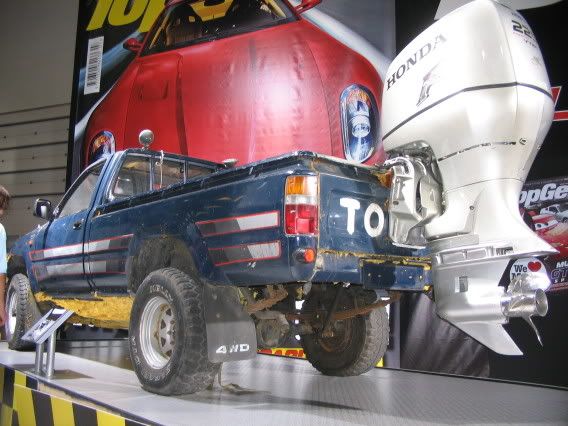 Clarkson's ToyBoatA. Heh.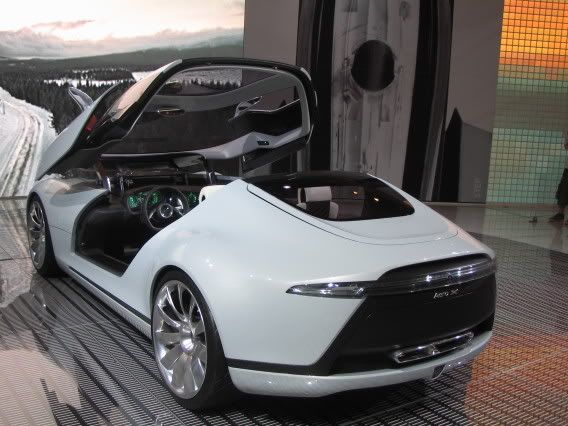 Saab concept. Apparently it runs on biofuel, which means you save the planet but smell like a chip alley.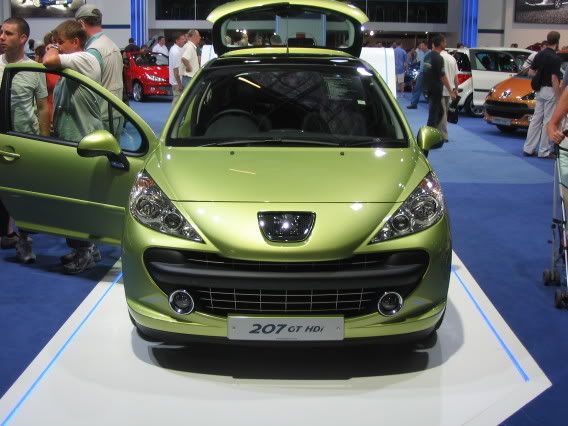 Pug 207. Yeah, and the colour doesn't help either.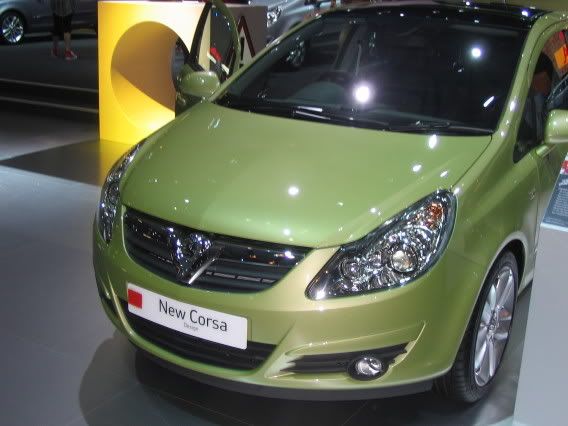 New Corsa. Spot the difference! Baby-poo green paintwork? Check. Hamster-recieving-enema headlights? Check. Big launch fuss? No, that's just the Corsa. Phew.
One of these is not a Mini.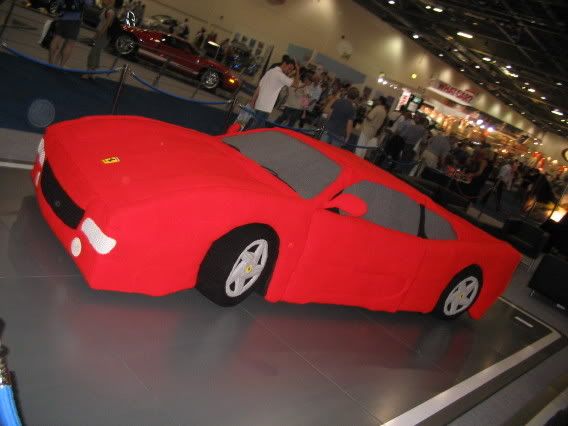 And this isn't a Ferrari, either. It's knitted.
Yes, it really is a Honda!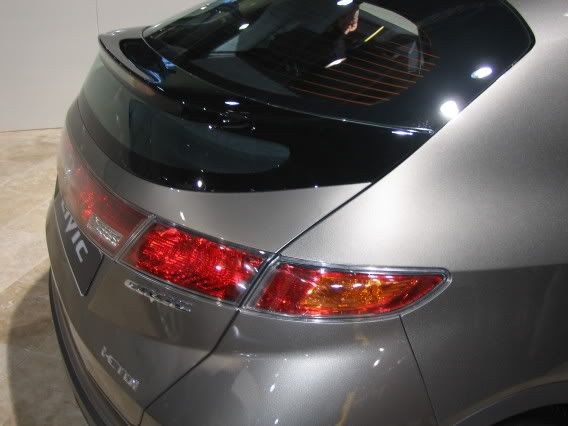 Angel in the detail.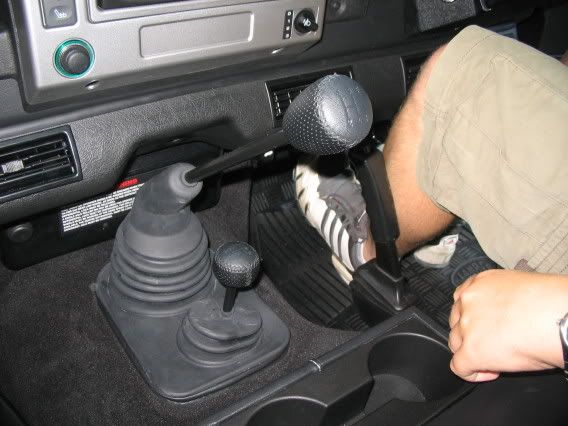 Space-age technology in the Defender. Long may it reign!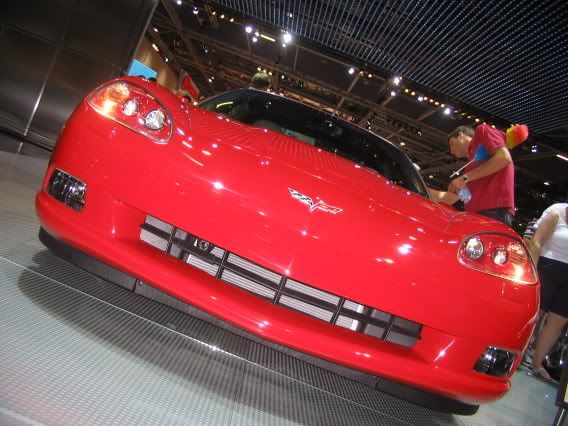 You know how American waitstaff are so obsequiously cheerful all the time? Doesn't this car look like one of them?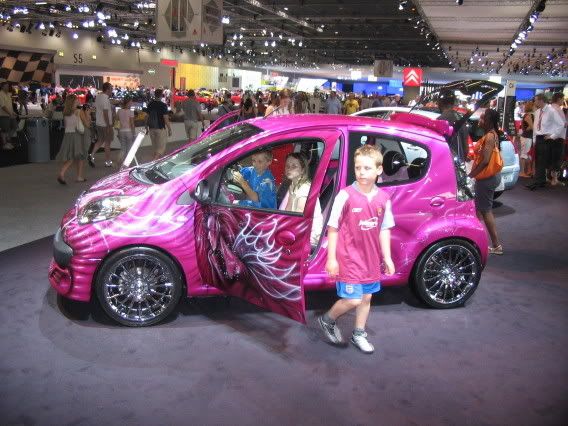 Citroen C1, with matching small child.
Rich pretending it's
his
Brera.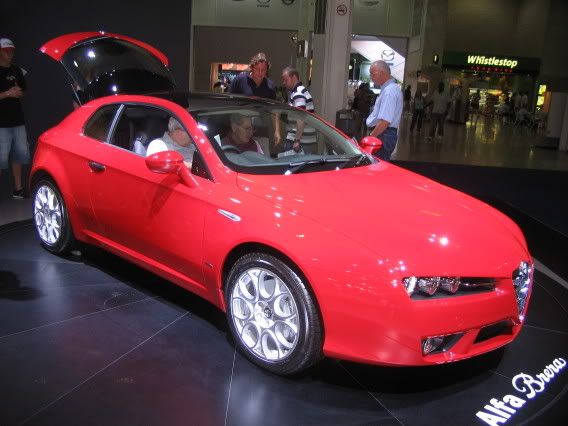 ...but can you blame him?
New Aston. Yep. I want one too.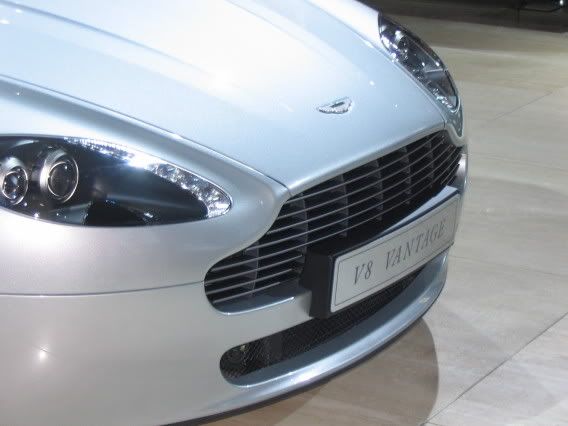 God, they're so pretty. I want to marry an Aston. I want to have its babies. I don't want to drive one, however: because then, you can't see how pretty it is from the outside.