V exhausting day, but v cool too. Last minute decision - my parents had hospitality tickets (turn up at midday, drink lots of free champagne and Pimms in a swanky marquee, eat lots of expensive food, polish off some strawberries and cream and maybe possibly watch some tennis - from very expensive seats on Centre OR No.1 court - and all because some guy wants my dad's business to buy his stuff).
Me and my bro went and did the pleb version of it: get up at 4am, get stuck in a traffic jam for half an hour (the switch your engine off kind), queue for three and a half hours for ground entry (if you want No.2 Court tickets you need to be there by 6am, if you want Centre or No.1 you have to get a tent and stay overnight), drink lots and lots of coffee, and finally get my parents to lend us their Centre Court tickets. Hence the tiredness - it was 11pm when we got home.
Watched the whole of Federer's match against Ferrero, a very tense set of the Davenport/Clijsters match, and the end of the Hewitt/Dent match, and spent forty five minutes watching Federer warming up. I can't believe anyone can beat that guy. He makes it look completely effortless! I love Wimbledon - you see all the players strolling about between courts, and the practice courts are open to view too. We had absolutely stunning weather too. Great day, even if I was so tired I actually felt myself falling asleep during the Hewitt match. Sorry guys!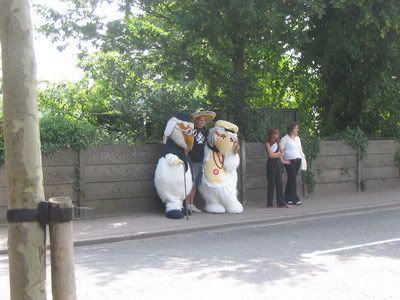 Wombles of Wimbledon. Of course.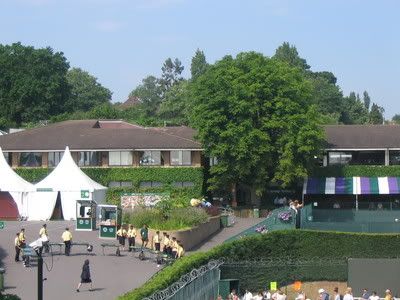 View from the bridge over the main road. Look how quiet it is! Half an hour later it was swarming.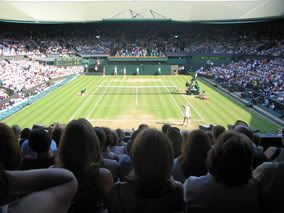 Centre Court. I'm sorry, I really can't make out who's playing at this resolution! I'll get back to you on that.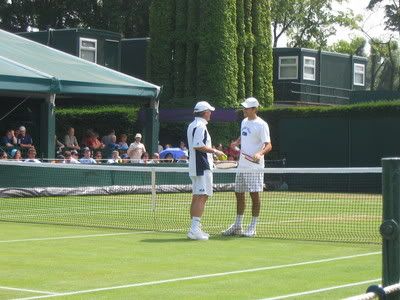 Federer (World #1 and last year's champion, for anyone who's been living in a hole) and his coach, Tony Roach, about to warm up.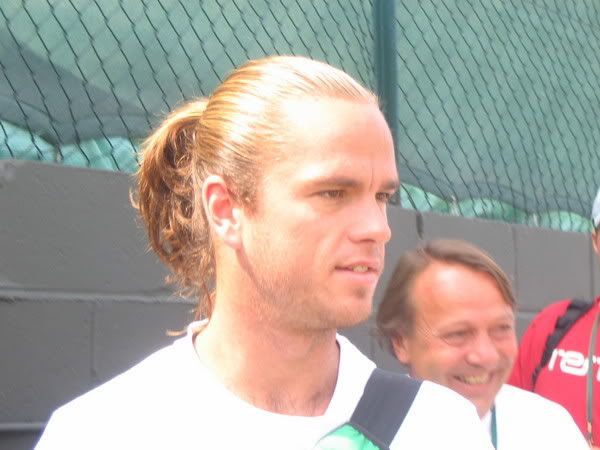 Xavier Malisse (aka Sulky), up close and personal. Rich christened Olivier Rochus (who is 5'5") and Malisse as 'Titch & Sulky' when they were playing doubles. Maybe it's funnier when you've been awake ten hours.