Good, bad, and exciting. Chronologically: the bad first. My dog, Honey, had a stroke Monday morning, possibly caused by a heart attack. Vet says dogs can recover well from strokes, they're not affected the same as humans. But even a good recovery will mean the end of long, short, or any walks for Honey, who at the moment can barely stand up. She's hardly eating, and whatever she consumes (mostly water) she brings back up again. We're hoping this is a reaction to the antibiotics, and that she'll get better. She's thirteen, which is pretty old for a dog I guess. On Monday she was so distressed, really panicked, it took two of us sitting on the floor, touching her constantly to reassure her, just to keep her quiet. I feel so sorry for her. She's always been an active dog, even as she got older she still loved going for a walk. But everyone gets old, and if she comes through this then she'll just be an old dog lolling around on the carpet. Which, let's face it, is what she does ninety percent of the time anyway.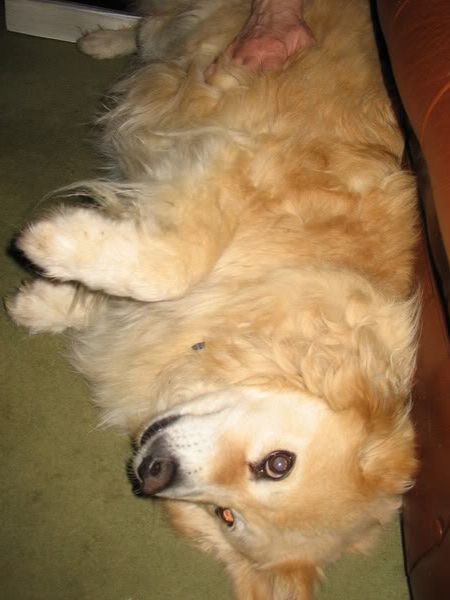 The exciting: well, okay, this hasn't happened yet, but I'm looking forward to the RNA conferencein Egham, Surrey, this weekend. I'm taking the train down tomorrow and coming back Sunday. Off to start packing my case soon.
The good: five minutes ago I read an email that said I'd semifinalled in the Molly contest. This was the first contest I entered a year ago, and semifinalled, and this year I'm going for a final (same ms, tweaked a bit). They had the 1st down as the date for first round announcements, and I'd figured I just wasn't going to hear anything. So that's a happy.