Feeling a little more coherent than I was when I got home yesterday, so I'll try for a slightly better report. I was horribly nervous about going to the conference for the first time - yes, I'd been assured by everyone I'd ever 'met' online that everyone would be very friendly, and that in fact there was someone whose specific job it was to take care of the first timers (thank you Mandy!). But I get nervous doing any new thing. I'm terrible at making conversation and ridiculously introverted for someone so noticable. But everyone was, indeed, very, very nice, to the point of carrying my bags when I was overloaded, and coming up to me to ask if I was Kate with an 8. I'd have bought the books of everyone there (a terribly tempting booksale was set up outside the lecture rooms we used) if I'd had the funds!
Workshops and talks all interesting. I think the reason it all went so quickly was that I wasn't bored once: everything was split into neat little segments and there was always something to do (and someone to talk to while you were doing it). Everyone very approachable, and because most of the workshops were being run by conference attendees, it was quite easy to chat about it to them afterwards.
My only regret is not coming up with a practised pitch that I could have used on the Piatkus editor, Gillian Green, who was wonderfully enthusiastic about her authors (including Sherrilyn Kenyon, very exciting) and invited submissions from us. Of course, next day was a workshop on query letters where Laurie Campbell encouraged us to write a 25 word pitch for the story. Mine will, of course, be going in my shortly-to-be-dispatched letter to Piatkus.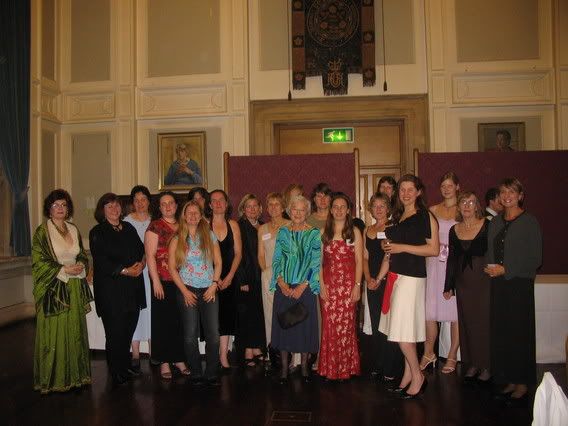 All the Conference Virgins on the last night, at the gala dinner. On the left in green is Lynne Conolly (did I spell that right?) who writes e-books; in the blue top with long hair is Mandy Jones, who was looking after us all; the lady with white hair and the funky print top is Anne Worboys, author of squillions of books; and I'm the one at the back, on the right, in purple, looking like a cardboard cutout.