We found her, and she was still alive, but in a really bad way. About half past one we decided to call the vet, who tolkd us to go to the Saffron Walden surgery (about ten miles from us, not our usual surgery which is about 200yds away. Saturday they only have emergency appts). He said to bring her in at 3.
We set off about half two in absolutely torrential rain, Mum driving, me carrying Willow. Poor baby was crying and shaking, she went all stiff as if she was in really bad pain, and then she just got quieter and stiller until I realised she wasn't breathing. We turned around, six miles from home, and by the time we got back she was cold.
I'm sorry we couldn't get her there before she started hurting so badly. but I'm glad we were with her, and I'm glad we all got to say goodbye. And I'm glad she's not in pain any more. But I'm not glad she's dead, because I loved her, I still love her and I always will. When the rain eases up we'll bury her next
to
Meu
. I think she'll have a white rose when they're in season.
These are pictures I took of Willow on Thursday. When i'm feeling better I'll try to find some pictures of her when she was younger, and not looking so sad. But here she is: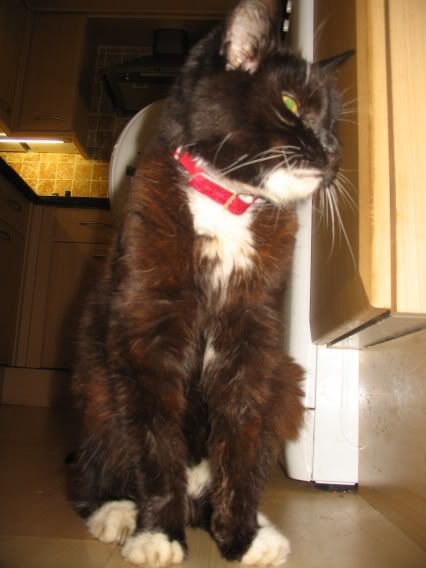 And here with her brother, Tinker, who came from the same litter. He's on the right, and Willow is in the red collar.
Time to go and give Tinker and Candy some big hugs, I think. Having only two cats is going to take a lot of getting used to.