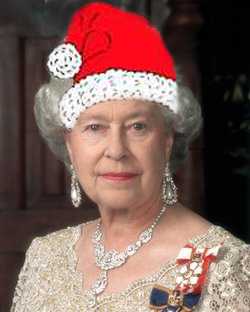 My God, it comes around fast! I went into town on Saturday and it was manic. Christmas shopping, I thought, then realised it was 18th November. In a week or two's time it'll be impossible to park. Well, more impossible, that is: after tearing down the town's multi-storey car park last spring and building apartments there instead, there's hardly anywhere to park midweek in summer, let alone a Saturday near Christmas. Apparently there'll be a new car park in time for the festive season, but I have a feeling the Powers That Be think this starts around 20th Dec, not October as we all know.
Anyway. The purpose of this post was a random Christmas musing. I can't remember if I mentioned that a month or so ago I went to a Diamond Wedding Anniversary celebration. My dad's uncle and his wife--sixty years, isn't that something? And, like a 100th birthday, a 60th wedding merits a message from the Queen. A rather grand greetings card with her picture on the front, a congratulatory message inside, and--a feat in itself--timely delivery.
Which made me think. A card with your picture on the front! I have a vague recollection of some acquaintance who'd done some work for the Prince's Trust getting a card with a photo of ol' Charlie-boy on the front. What a fantastic idea, thinks I! Now, whenever anyone looks at your tasteful greeting, hanging above the mantel (I typed mental there, heh), they'll know instantly who it's from, and what's more, be reminded of who you are (for years my parents, whose names are Barbara and Keith, received cards addressed to Kath and Richard. Each year, the return card clearly stated their names, in my mother's neat schooteacher print, but of course, the senders never matched them up).
Of course, HM has the best photographers, makeup artists, couturiers, decorators etc. to make her seasonal greeting look all twinkly and nice. But with the best will in the world, I'm afraid her son's greetings cards will never be the prettiest of the bunch. Perhaps he ought to send photos of his boys, because then working for the Prince's Trust would mean you'd get a gratis picture of Prince William, and I bet he'd have hundreds of volunteers.
I digress (how unusual for me!). While I'll never be as photogenic as the lovely Wills, I could still send out tasteful, twinkly Christmas cards with my own mug on the front. Christmas tree in the background. Soft-focus glow of fairy lights. Seasons Greetings from Queen Kate. Corgi or two--okay, fluffy white cat on my lap. Mr Bond is being lasered to death in the other room.
Maybe not.